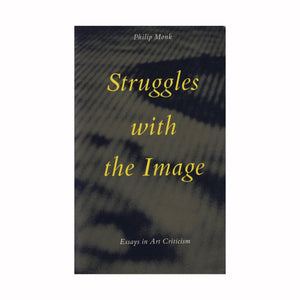 Softcover, 5.25 x 8.5 in.
222 pp.
Published by YYZBOOKS
Toronto, 1988
An indispensable consideration of Canadian art in the eighties. Monk examines the problematics of cultural production and criticism in a uniquely Canadian context.
From 1977 – 1984, Philip Monk  was a writer, and in the early 1980s a free-lance curator as well. Over the years, once he became an institutional curator in 1985, he used curating as a means to continue to be a writer and directing as a writer's project. From 2003 to the end of 2017, he was Director of the Art Gallery of York University in Toronto. Previously he was curator at The Power Plant (1994 – 2003) and the Art Gallery of Ontario (1985 – 1994), both in Toronto. He has written twelve books, including Glamour is Theft: A User's Guide to General Idea (2012) and Is Toronto Burning?: Three Years in the Making (and Unmaking) of the Toronto Art Scene (2016). As well as scores of articles, reviews, and essays, he has written dozens of catalogues on international and Canadian artists. In 2009, he was the inaugural recipient of the Ontario Association of Art Galleries Lifetime Achievement Award and in 2011 he received the Hnatyshyn Award for Curatorial Excellence. In 2017, he won the Outstanding Contribution Award in the Governor General's Awards for Visual and Media Arts.
Contents
Preface
Acknowledgements
Introduction
Struggles with the Image
Exits
Violence and Representation
Breach of Promise
From Drift to Dialogue
The Zero Machine
Coming to Speech
Language and Representation
Semiotics of Reception
Colony, Commodity and Copyright
Staging Language, Presenting Events, Representing History
Editorials
Axes of Difference
Subjects in Pictures
Bibliography
ISBN: 0-920397-06-9