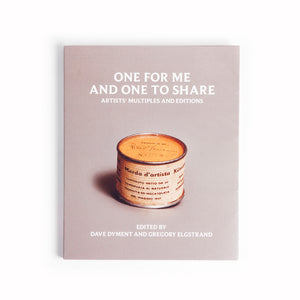 Softcover, 8 x 10 in.
204 pp. / 36 pp colour.
Published by YYZBOOKS
Toronto, 2012.
Dave Dyment is a Toronto-based artist whose work encompasses audio, video, performance, and writing. His past projects include a century-aged edition of Glenfiddich malt whisky; a duet with Sonic Youth's Lee Ranaldo; and the photograph One Billion Years (Past & Future), which arranges dozens of books according to the time frames referenced in their titles. Dyment has exhibited across Canada and internationally, and his work is represented by MKG127, Toronto.
Gregory Elgstrand is an independent curator, writer, and the Director/Curator of Bohart in Port Moody, British Columbia. He has curated and organized numerous exhibitions across Canada and his writings have been published by Canadian Art, C, the Palais de Tokyo, YYZ, the Glenbow Museum and the University of Calgary. Elgstrand recently served as Director of YYZ from 2004 to 2008 and as Director/Curator of the Art Gallery of Calgary (AGC) from 1999 to 2003. Before joining the AGC, Elgstrand worked as Director of Truck in Calgary and from 1995 to 1998 he was Coordinator of Struts Gallery in Sackville, New Brunswick. In 1993, he and his brother, screenwriter, playwright and director Kris Elgstrand, co-founded AH UM Theatre in Vancouver. Elgstrand studied at the Emily Carr College of Art and Design, Simon Fraser University and the Nova Scotia College of Art and Design.
Artists' multiples have been at the forefront of alternate means of artistic circulation and exchange for the last fifty years. Artists' multiple production is frequently concerned with ideas of distributions, reception, value, and commerce, either to mimic, mock, or as an attempt to circumvent predominant economic systems entirely. Artists have frequently taken on the role of proprietor, retailing their works in stores, market stalls, and vending machines of their own design. Others have produced magazines, mail-order catalogues, and e-commerce sites in order to distribute works. Some have pegged the price of a multiple to value of gold while others have produced work to be given away. Reflecting these artistic considerations, the essays and interviews in One for Me and One to Share address artists' multiples as a means for production, circulation, and reception.
Contents
Preface
Introduction
Dave Dyment and Gregory Elgstrand
Plates
The Artists' Multiple: a Contribution to the Debate on Democratization of Art
Oceane Delleaux / translation by Kevin B. Shelton
The Economics of the Multiple
Gregory Elgstrand
Multiply Divide: The Politics of the Multiple
Mark Clintberg
Multiples, Schmultiples: an Interview with Cary Leibowitz
Roula Partheniou
The Needle and the Damage Done: Artists' Records as Multiples
Dave Dyment
Multiples in the Mail: Within, With, and as Magazines
Nicholas Brown
Interview with Harry Ruh
Dave Dyment
Canal in Flux
Dave Dyment
The Multiple and the Mainstream
Jonathan Shaughnessy
Chronology: A Selective One-Hundred Year Timeline of Reproducible and Distributable Artworks
Selected Bibliography
List of Works
ISBN: 0-920397-52-2 / 978-0-920397-52-7