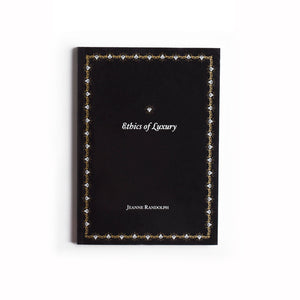 Softcover, 5 x 7 in.
142 pp. / 31 pp bw.
Published by YYZBOOKS and Plug In ICA/Plug in Editions
Toronto and Winnipeg, 2007.

Dr. Jeanne Randolph is one of Canada's foremost cultural theorists. A practicing psychiatrist, Randolph is also known as a performance artist whose extemporaneous soliloquies (on topics varying from cat curating to boxing to Barbie Dolls to Wittgenstein) have been performed in galleries and universities across Canada as well as in England, Australia, and Spain.
In Ethics of Luxury, renowned Canadian thinker and artist Jeanne Randolph gives us a magnum opus focusing on one of the most pressing issues facing us today: how we act morally and ethically while participating in a culture of abundance, opulence and consumerism. Randolph argues that when we use our imagination, as we do when we create, appreciate, and live with art, we are acting ethically, expressing our sense of morality in a practical, material way.
With an afterword by Ihor Holubizsky.
Ethics of Luxury is the fourth book by Dr. Randolph to be published by YYZBOOKS, following the influential Psychoanalysis and Synchronized Swimming (1991), Symbolism and Its Discontents (1997), and Why Stoics Box (2003).
Contents
Preamble
Jeanne Randolph
Afterword
Ihor Holubizky
Regarding Consumption
Anthony Kiendl
Acknowledgements
ISBN: 0-920397-46-8 / 978-0-920397-46-6