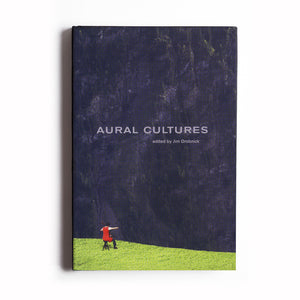 Softcover
288 pp.
Published by YYZBOOKS, Walter Philips Gallery Editions, and The Banff Centre, with special thanks to Charles Street Video
Toronto and Banff, 2004.
Sounds resonate in nearly every social activity from symphonic concerts and ritual chants to cacophonous revelries and respectful silences. These acoustic situations do more than reflect cultural sensibility, they create it as a living presence. Aural Cultures is a timely and comprehensive collection of essays and artists'projects that examines sound in art and contemporary culture. The authors come from a diversity of fields, including sound construction, communication, performance, anthropology, art history, cinema studies, literature, and philosophy.
A CD of sound art recordings by renowned international and Canadian artists accompanies the publication.
Artists and Contributors:
Philip Auslander, Robert Bean, Elmer Birkbeck, Jodi Brooks, Gabor Csepregi, Robert Desjarlais, Dave Dyment, Kevin Ei-ichi deForest, Daniel Fisher, Jennifer Fisher, Wes Folkerth, Raymond Gervais, Ann Hamilton, Susan Hiller, Charles Hirschkind, David Howes, Mary Horlock, Lewis Kaye, Martin Kersels, Georgina Kleege, Kanta Kochhar-Lindgren, Komar and Melamid, Richard Leppert, Christian Marclay, Andra McCartney, William McClelland, Christof Migone, Shirin Neshat, Daniel Olson, Claire Savoie, Peter L. Schmunk, Santiago Sierra, Don Simmons, Sherry Simon, Kim Sooja, Su-Mei Tse.
ISBN 0-920397-80-8