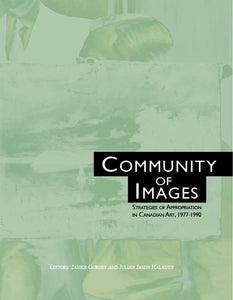 Softcover
410 pp. / 181 images
Published by YYZBOOKS
Toronto, 2022.
Edited by Janice Gurney and Julian Jason Haladyn
A publication of Art + Research initiatives Toronto

Supported by Toronto friends of the visual arts
This book traces a history of the diverse practices of appropriation specific to Canadian art through a series of critical essays, short essays on individual artworks, artist interviews and additional research. Profusely illustrated with colour images, this is the first in-depth study of Canadian appropriation art. With essays by Mark A. Cheetham, Miriam Jordan-Haladyn, Alexandra Kahsenni:io Nahwegahbow, Shirley Madill, Cristina S. Martinez, Andy Patton, Jennifer Rudder, Émilie von Garan, Adam Welch, Janice Gurney and Julian Jason Haladyn.
CONTENTS
 
INTRODUCTION—THE EXISTENCE OF OTHERS
Janice Gurney

 1 CONTEXTS
 INTRODUCTION
J.J. Haladyn
 
RE-PLACING APPROPRIATION ART AND POSTMODERNISM
Mark A. Cheetham
 
FEMINISM AND APPROPRIATION ART
Shirley Madill
 
FROM IMAGE BONDAGE TO LIP-SYNCH: LOCAL INFLUENCES
ON APPROPRIATION ART IN TORONTO
Andy Patton
 
2 CLOSE READINGS
 
INTRODUCTION
J.J. Haladyn
 
CARL BEAM: COUNTER-APPROPRIATION AND POLYPHONIC IMAGE/TEXT
Miriam Jordan-Haladyn
 
APPROPRIATING CINEMA: ON NETWORKED CONSTELLATIONS AND
POSTHUMAN RESONANCE IN JANICE GURNEY'S THE NEWSPAPER
Émilie von Garan
 
3 HISTORIES
 
INTRODUCTION
J.J. Haladyn
 
IN AND OUT OF HISTORY: IMAGES FROM ELSEWHERE
Janice Gurney
 
QUOTATION MARKS, CREDITS AND THE COPYRIGHT SYMBOL:
TRIBUTE AND CRITIQUE
Cristina S. Martinez
 
APPROPRIATING LATE CAPITALISM
Julian Jason Haladyn
 
4 ONE WORKS
 
INTRODUCTION
J.J. Haladyn
 
AFTER GIOTTO (THE SACRIFICE OF JOACHIM) (1977)
SHEILA AYEARST [text by Jennifer Rudder]
 
100 YEARS OF AGGRESSION (1979)
KIM TOMCZAK [text by Andy Patton]
 
N.B. (1979)
ANDRE JODOIN [text by Janice Gurney]
 
FOUND GREEK POSTERS (1981)
ISAAC APPLEBAUM [text by Andy Patton]
 
PORTRAIT OF ME AS MY GRANDMOTHER'S FAULTS (1982)
JANICE GURNEY [text by Shirley Madill]
 
GLADYS M. JOHNSTON SERIES: UNTITLED #8 (1982)
ARLENE STAMP [text by Janice Gurney]
 
DEUX DEVISES (1983)
STAN DOUGLAS [text by Julian Jason Haladyn]
 
DER WELTGLAUBENSTRAUM (1983) / THE DISTANT WORLD (1984)
WILL GORLITZ [text by Andy Patton]
 
ANTICIPATING THE EVENTUAL EMERGENCE OF FORM, PART 1 AND 2 (1983)
RENÉE VAN HALM [text by Adam Welch]
 
THE STATUES (1983)
ANDY PATTON [text by Mark A. Cheetham]
 
LEMMY IN BONDAGE (LEMMY CAUTION WAS A SCULPTOR) (1984)
OLIVER GIRLING [text by Andy Patton]
 
THE NORTH AMERICAN ICEBERG (1985)
CARL BEAM [text by Alexandra Nahwegahbow]
 
DOUBLE DUMMY (1985)
GORDON LEBREDT [text by Andy Patton]
 
MISSION (1986)
ROY ARDEN [text by Mark A. Cheetham]
 
LIKENESS TWICE OVER (1986)
DAVID CLARKSON [text by Andy Patton]
 
NEW CHARGES AGAINST WALDHEIM (1986)
COLETTE WHITEN [text by Shirley Madill]
 
STATUS (1990)
JOANNE TOD [text by Janice Gurney]
 
5 INTERVIEWS
 
INTRODUCTION
Janice Gurney
 
ISAAC APPLEBAUM [questions by Andy Patton]
 
SHEILA AYEARST [questions by Janice Gurney and Andy Patton]
 
DAVID CLARKSON [questions by Andy Patton]
 
OLIVER GIRLING [questions by Andy Patton and Janice Gurney]
 
WILL GORLITZ [questions by Janice Gurney and Andy Patton]
 
JANICE GURNEY [questions by Émilie von Garan]
 
ANDRE JODOIN [questions by Janice Gurney and Julian Jason Haladyn]
 
ANDY PATTON [questions by Maxwell Hyett]
 
ARLENE STAMP [questions by Janice Gurney]
 
JOANNE TOD [questions by Andy Patton and Janice Gurney]
 
RENÉE VAN HALM [questions by Janice Gurney and Andy Patton]
 
6 ON BEING APPROPRIATED
 
INTRODUCTION
Janice Gurney
 
ANDRE JODOIN: FIG. 1
 
ARLENE STAMP: FILTER
 
JOANNE TOD: SEARCHING BLACK MINERS FOR HIDDEN DIAMONDS
 
ANDY PATTON: SEARCHING BLACK MINERS FOR HIDDEN DIAMONDS
 
DAVID CLARKSON: SEARCHING BLACK MINERS FOR HIDDEN DIAMONDS
 
WILL GORLITZ: 1001 DETAILS FROM GENRE
 
SHEILA AYEARST: THE SURFACE OF BEHAVIOUR
 
OLIVER GIRLING AND SHIRLEY WIITASALO: INTERVIEW
 
GREG CURNOE: THE LAST TASMANIANS/BADGER, MANITOBA
 
ROB FLACK: MEANINGFUL WORK
 
7 ADDITIONAL RESEARCH
 
INTRODUCTION
J.J. Haladyn
 
JACK CHAMBERS' THREE PAGES IN TIME
Mark A. Cheetham
 
CLIVE ROBERTSON'S HOW TO EXPLAIN PICTURES TO A DEAD HARE
Janice Gurney and Julian Jason Haladyn
 
TRANSCRIPT [Reprints]
Judith Doyle
 
LATE CAPITALISM [Reprint]
Tim Guest
 
CARL BEAM: WHAT IS THE MEASURE OF A RULER?
Julian Jason Haladyn
 
NOTES ON CONTRIBUTORS
IMAGE CREDITS
ACKNOWLEDGEMENTS
INDEX
 
ISBN 978-0-920-397-65-7