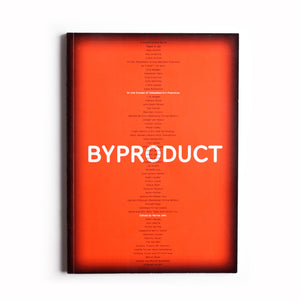 Softcover, 7 x 10 in.
192 pp. / 85 pp monotone.
Published by YYZBOOKS and REV-
Toronto and New York, 2010
Distributed by Distributed Art Publishers (D.A.P.)

Marisa Jahn is an artist, writer, and community organizer embedded in various economic justice groups since 2008. Her work has been presented in many international institutions. In 2009, she co-founded REV-, an organization dedicated to socially-engaged art, design, and pedagogy. She is currently the Deputy Director at People's Production House, a journalism training and production institute.
Byproduct presents texts from a variety of artists, activists, curators, and interdisciplinary thinkers that interrogate projects by cultural practitioners 'embedded' in industries, the government, and other non-art sectors. Working with the physical systems and symbolic languages of these institutions, these cultural agents develop projects - or 'byproducts' - that produce meaning contingent on their hosts. Whether the works are explicitly polemical or instrumentalized by their hosts is up for debate...
Contents
1. INTRODUCTION
Byproducts and Parasites: On the Excess of Embedded Art Practices
Marisa Jahn and L.M. Bogad
Parasite (excerpt)
Michel Serres / Response by Ian Clarke / Response by Matthew Soules
What is an Institution?
John R. Searle / Response by Joshua Moufawad-Paul
2. PRODUCING & ITS BYPRODUCTS (ART & COMMERCE)
Preface
Marisa Jahn
ARTIST PLACEMENT GROUP
Context is Half the Work
Peter Eleey
Countdown to Zero, Count Up to Now - An Interview with Artist Placement Goup
Pauline van Mourik Broekman and Josephine Berry Slater
Manifesto, 1980
Artist Placement Group
APG: Legacies and Aftermaths - A Conversation with Claire Bishop and Stephen Wright
Editorialized by Marisa Jahn
N.E. THING CO. LTD.
N.E. Thing Co. Ltd.: From Soft Sell to Soft Skills
Adam Lauder
Things United and Non-Categorical: N. E. Thing Co. Ltd. - An Interview with Ingrid Baxter
Grant Arnold
On the Philosophy of "Gross National Good"
IAIN BAXTER&
E.A.T.
The Artist and Industry, E.A.T. Proceedings, No. 4
A talk presented at the Museum of Modern Art, December 16, 1968
Billy Kluver
Beginning 9 Evenings
Michelle Kuo
Manifesto, 1967
E.A.T.
Accounting for Byproducts
Editorial introduction by Marisa Jahn
The Incidental Persons of the Information Revolution
Felicity Taylor
DEMOCRATIC INNOVATION
Col-labor-ate? - A Conversation with Kent Hansen
Marisa Jahn
PAUL ARDENNE
Of Economic Concerns
Paul Ardenne, translated from the French by Emmanuelle Day and Lisa Larson-Walker / Response by Amish Morrell
Le souci de l'economie
Paul Ardenne
A CONSTRUCTED WORLD
All the Bankers at Altamount - An Interview with A Constructed World
Joseph del Pesco
MAUREEN CONNOR
Personnel: A Conversation with Maureen Connor
Marisa Jahn / Special Contributions by Kadambari Baxi
AU TRAVAIL/AT WORK
There are Shitty Jobs Everywhere; That's My Freedom - An Interview with Bob the Builder of Au Travail/At Work
Gina Badger and Adam Bobbette / Response by Allan Antliff
Manifesto, 2010
Au Travail/At Work
Manifeste, 2010
Au Travail/At Work
TOMAS JONSSON
The Magpie: Economic Redundancy as Civic Participation - An Interview with Tomas Jonsson
Marisa Jahn
3. PERFORMING POLITICS
KRISTIN LUCAS
"Refresh": Versionhood and the Multiplicity of the Self - An Interview with Kristen Lucas
Marisa Jahn / Court transcript / Response by Kate Henderson
JANEZ JANSA
Subversion and Similitude in the Janez Jansa Project
Marisa Jahn
The Name as a Readymade - An Interview with Janez Jana, Janez Jana and Janez Jana
Lev Kreft
STEVE MANN
Prior Art: Art of Record for Personal Safety
Kathleen Pirrie-Adams / Response by Michael Page
Incidentalism and Existential Contraband: On Steve Mann
Marisa Jahn and Connor Dickie
MAMMALIAN DIVING REFLEX
Social Acupuncture and The Dog That Saved The Duck - An Interview with Darren O'Donnell and Natalie de Vito
Marisa Jahn
Social Acupuncture: A Guide to Suicide, Performance and Utopia (excerpt)
Darren O'Donnell
JOHN SEELY BROWN
On Performance Fabrics (excerpt)
John Seely Brown / Response by Etienne Turpin and DT Cochrane
THE YES MEN
The Baked Apple: On theNew York Post "Special Edition" - An Interview with Andy Bichlbaum (The Yes Men), L.M. Bogad, and Andrew Boyd
Marisa Jahn and Merve Unsal
REVEREND BILLY
Billy Versus Bloomie: Electoral Guerrilla Theatre in New York City
L.M. Bogad
Letters from the Congregation to Reverend Billy and The Church of Life After Shoppig
MR. PEANUT
Mr. Peanut for Vancouver Mayor 1974 - An Interview with Vincent Strasov
Luis Jacob
TEJPAL S. AJJI
Isotopes and a Radioactive Modernity
Tejpal S. Ajji
MISS CANADIANA
And the Winner Is...
Michelle Jacques
ANTANAS MOCKUS
Living Fossils, Cultural Amphibians, and the Future's Midwife - An Interview with Antanas Mockus
Pedro Reyes / Editorial introduction by Joseph del Pesco
Contributors' Biographies
Notes
ISBN: 0-920397-51-4 / 978-0-920397-51-0