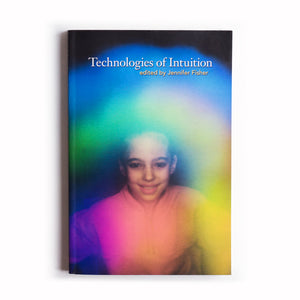 Softcover, 6 x 9 in.
272 pp. / 27 pp bw. / 96 pp colour.
Published by YYZBOOKS, Mentoring Artists for Women's Art (MAWA) and DisplayCult
Toronto/Winnipeg, 2006.

Jennifer Fisher's research examines contemporary art, curatorial practice, display culture, the affective
turn in art and criticism, and the aesthetics of the non-visual senses. She is a founding member of the
curatorial collaborative DisplayCult.
This definitive anthology brings together texts, interviews, and artists' projects that centre on the theme
of intuition. The contributors address facets of the sixth sense in art and culture from a wide range of
perspectives, including those of visual, performance and new media art, cultural theory, art history,
psychology, curating, and theatre.
Contents
Acknowledgments
Introduction
Jennifer Fisher
The Enactment of the Supernatural in French Symbolist Culture
Serena Keshavjee
The Tarot of Organizing Women
Bev Pike
Spiritualist Embrace
Valrie Lamontagne
Two Women Visionaries
Zoe Beloff
Psychic-Graphies: Extracts from Three "Supernatural" Correspondences
Katarina Soukup
On Intuition
Carolee Schneemann
Chrysanne Stathacos: The Aura Project
An Interview by Jennifer Fisher
Belly Brain
Barbara Balfour
Susan Hiller's Paraconceptualism
Alexandra M. Kokoli
Fear, Shame, Ecstasy and Self-Transformation: Marina Abramovic
An Interview by Jennifer Fisher and Jim Drobnick
Seven Paths to Reclaiming Our Intuition
Linda M. Montano
The Chakra Cycles of Linda M. Montano
Jennifer Fisher
Sensing the Here After: Photography, Memory and Intuition
Beth Seaton
Forces of the Universe: Intuition and the Lesbian Witch in Buffy the Vampire Slayer
Carlen Lavigne
The Fortune-Teller
Frances Leeming
Intuition as the Receptive Other
Jade McCutcheon
Are Muses Real? Intuitive Inspiration, Possession and Dissociation
Paula Thomson
Psychic Portraits
Karen Finley
Curating as a Divining Process
Carolyn Bell Farrell
My Intuition Matrix
Joanne Bristol
Survival Series
Tricia Wasney
Towards a Haunted Art History
Jo Appelin
Home Hands
Karen Trask
Namaste
Katja Kessin
Contributors
ISBN: 0-920397-43-3 / 978-0-920397-43-5