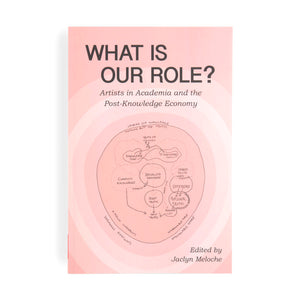 Inspired by her own experiences of having to select a professional identity as an emerging scholar, editor Jaclyn Meloche asks the question What is our Role? While interdisciplinary practices and arts-based research within academia—commonly named "research-creation"—is not particularly new, nor revolutionary, visual art departments and art history departments within North American universities often perpetuate monodisciplinary models of pedagogy within their curriculums and mandates.
With very few exceptions, faculty in each department often exemplify discipline-specific practitioners working either in painting, sculpture, photography, or art history. But what happens when a painter is also an art historian? Or when a curator is also a performance artist? Or better yet, when an artist is also a writer? While these intertwined identities do exist, and arts-based research has started to earn recognition within academic and governmental granting agencies, limited spaces have in fact been carved out for the practice of research-creation within university departments.
What is our Role?: Artists in Academia and the Post-Knowledge Economy brings to the page a selection of inspired negotiations of the role of the artist in academia by four artist-scholars. While narrated through the lens of the practitioner, each chapter in this publication responds to the question: What is at stake for artists with Ph.D.'s in academia today?
Sharing a variety of entangled identities, Jaclyn Meloche, Dave Kemp, Natalie Doonan, Taien Ng-Chan, and Ryan Stec are invested in proposing new understandings of arts-based research vis-à-vis knowledge production as well as creating new spaces in which to produce knowledge within the institution through material and philosophical negotiations of research-creation.
Biography
Jaclyn Meloche completed an interdisciplinary Ph.D. in Humanities (Fine Arts) at Concordia University in 2015. Her dissertation, Materials Matter: The Politics of Posthumanist Performativity in Contemporary Studio Practice, narrates a philo-sophical complication of materials in a studio practice through a posthumanist performative framework: a theoretical model through which to re/negotiate material agency in contemporary visual culture. She is co-curator of the touring exhibition Alma, presented by the Ottawa Art Gallery, the Varley Art Gallery, the Judith and Norman ALIX Art Gallery, and the Art Gallery of Windsor. In the role of Curator of Contemporary Art at the Art Gallery of Windsor, her projects include The Sandwich Project (2017), Downtown/s – Urban Renewal Today for Tomorrow, The 2017 Windsor-Essex Triennial of Contemporary Art (2017), Isabelle Hayeur: Corps étranger/Foreign Body (2017), The Sandwich Project (2018), Deicing/Decolonizing: Hockey Histories in Canadian Contemporary Art (2019), and Carol Sawyer: The Natalie Brettschneider Archive (2019). Meloche is the author of "Milk Does the Body" in Immersive Performance: Engaging the Audience (Champaign, IL: Common Ground Research Networks) and "Camera Performed: Visualizing the Behaviours of Technology in Digital Performance" in Spaces of Surveillance: States and Selves (London: Palgrave Macmillan, 2017). Forthcoming book chapters include "The Politics of Perception: Re/Constructing Meaning Inside the Frame of War" in Surveillance, Race and Culture (London: Palgrave Macmillan, 2018), and "Houses, Homes and the Horrors of a Suburban Identity Politic" in Surveillance, Architecture and Control: Discourses on Spatial Culture (London: Palgrave Macmillan, 2019). She is a practicing artist and member of the Humanities Research Group's Board of Directors at the University of Windsor.