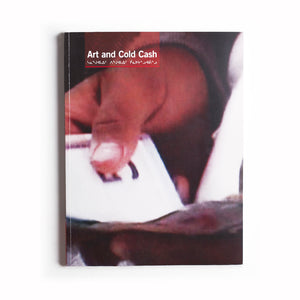 Softcover, 8 x 10.5 in.
191 pp. / 26 pp bw. / 24 pp colour.
Published by YYZBOOKS
Toronto, 2009.

Art and Cold Cash--a multi-layered, creative investigation that took place from 2004 to 2007--connected contemporary art to discourses surrounding money in a series of artistic activities and experiments located in northern and southern Canada. Jack Butler, Sheila Butler and Patrick Mahon, three contemporary artists whose practices are normally situated in southern Canada and internationally, worked on the project in collaboration with writer Ruby Arngna'naaq and artists William Noah, two Inuit members of the Art and Cold Cash Collective who lived through the change from a barter economy to capitalism in Baker Lake, Nunavut, during the twentieth century.
This book is a compelling document of a ground-breaking project that involved storytelling, interviews, community-based art practice, drawings, sculpture, and videos produced for exhibitions in galleries and airports in the north, and in Toronto, Winnipeg, and Barrie, Ontario. Art and Cold Cash features documentation of those activities and artworks, and includes essays by the collective members and other commentators. Central to the volume is a series of fascinating interviews, in English and Inuktitut, where eight Baker Lake residents, some of whom are artists, recall their poignant first engagements with capitalist exchange in response to the query, "Do you remember when you first used money?"
Contents
Art and Cold Cash: Pomegranates in Qamani'tuaq, or When Money Becomes Caribou
Smaro Kamboureli
Art and Cold Cash: An Introduction
Sheila Butler
Art and Cold Cash: Business as Usual
Norman Vorano
The Money Stories: An Introduction
Jack Butler
1. THE MONEY STORIES:
Hunguhaaq
John Killulaaq
Martin Kreelak
Nanautuaq
Nanautuaq's Father's Song
Rosa Kingilik
Thomas Iksiraq
Simon Tookoome
Glossary: Inuktitut/English for Art and Cold Cash
Ruby Arngna'naaq and Jack Butler
2. CURATORIAL COMMENTARY ON THE EXHIBITIONS
Exchange
Sarah Beveridge
Cold Art Cash
David Liss
Cold Art Cash in Winnipeg
J.J. Kegan McFadden
Art and Cold Cash: Northern Economies and theLuxuries of Cultural Exchange
Jenny Western
3. ARTISTS' PROJECTS
I Treated Money Like Caribou
Ruby Arngna'naaq
How Canadian Artists Earn Money: North vs South
Jack Butler
Unfrozen Currencies: Money, National Mythologies, and the North
Patrick Mahon
Art and Cold Cash: A Conversation
Sheila Butler
Artists' and Writers' Biographies
Photo Credits
Acknowledgments
ISBN: 0-920397-53-0 / 978-0-920397-53-4