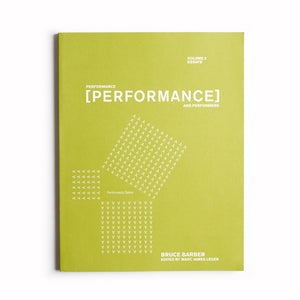 Softcover, 8.5 x 11 in.
160 pp. / 40 pp bw.
Published by YYZBOOKS
Toronto, 2007.
Both volumes ofPerformance, [Performance] and Performers are available at a discounted price of $50.

Bruce Barber is an internationally recognized artists, writer, curator, and educator. Barber's work is included in various private and public collections. He is a Professor of Media Arts; Historical and Critical Studies, and Director of the MFA program at NSCAD University.
Marc James Leger is an artist, writer, and educator living in Montreal. Leger has published essays on critical public art in a number of journals, includingFuse,Parachute,Art Journal, and theCanadian Journal of Film Studies. He has exhibited in Canada, the U.S., and the U.K.
Contents
Foreword: Bruce Barber and the parenthetical suspension of performance
Marc James Leger
Essays on Performance, [Performance]
Common Ground: Acconci, Schneemann, Jonas, and Oppenheim
Problems in the Taxonomy of Performance and Body Art
A Book Review of RoseLee Goldberg,
Performance: Live Art 1909 to the Present
Performance for Instruction and Performance for Pleasure
The Function of Performance in Postmodern Culture
Audience, Crowd and State
Notes Toward an Adequate Interventionist [Performance] Practice
Jubal Brown's Blague: The Sovereign Consciousness of In/Subordination
Three Modes of Canadian Performance in the Nineties
Cultural Interventions in the Public Sphere
Selected References
Illustration Credits
ISBN 0-920397-48-4 / 978-0-920397-48-0