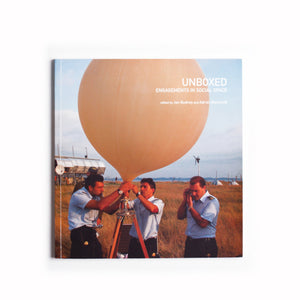 Softcover, 8 x 8.5 in.
132 pp. / 81 pp bw.
Published by Gallery 101 and distributed by YYZBOOKS
Ottawa, 2005.

Jen Budney is currently a curator at the Mendel Art Gallery in Saskatoon. She has published widely in magazines as well as in catalogues. Her research interests include issues related to colonialism, architecture and monuments, and epistemology.
Adrian Blackwell is an artist as well as an urban and architectural designer. He has taught architecture and urban design at the University of Toronto since 1997, initiating the school's China Global Architecture program in 2004.
This publication emphasizes the importance of interdisciplinary art practices, particularly with regard to architecture and performance, bridging art, architecture, and everyday life. Each text by the artists contributing to this publication adds a unique and important mode of thinking about notions of space, the physicality and politics of buildings, and our personal experience within the spaces we occupy and create. The essays direct us to consider the local and social connections between individuals and environments and, in their variety, they mirror the diversity of way we move around in communities, rural and urban, together forming a challenging, engaging and accessible set of text that enlighten our ways of seeing and our sense of being. -- from the Foreword by Jessie Lacayo, Curator
Contents
Foreword
Jessie Lacayo
Unboxed: Social Space and Participation
Jen Budney
Not Architecture Not Performance: Reworking the Expanded Field
Adrian Blackwell
Vito Acconci
Lucy Orta
Steve Topping
Anna Rewakowicz
Anna Rewakowicz and Steve Topping
Adrian Blackwell
SYN-
Eduardo Aquino
Marko Peljhan
Jan-Erik Andersson
Marie-Paule MacDonald
ISBN: 1-896183-13-1 / 978-1-896183-13-8