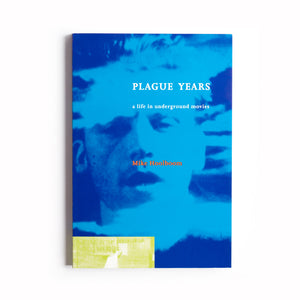 Edited by Steve Reinke
Softcover, 5.75 x 8.5 in.
209 pp. / 175 pp bw.
Published by YYZBOOKS
Toronto, 1998.

Mike Hoolboom is a Canadian artist working in film and video. He is the author of three non-fiction books and one novel, The Steve Machine (2008). He has co-edited three books on media artists, as well as editing magazines, catalogues, and the Fringe Online website.
Steve Reinke is an artist and writer known for his single channel videos, which have been exhibited internationally. He received his undergraduate education at the University of Guelph and York University, as well as a Masters of Fine Art from NSCAD University. His video works have proved to be veryinfluential, specifically The Hundred Videos (1989-1996) project.
Part autobiography and part exploration of the human body, Plague Years combines Hoolboom's musings on life with textual and visual excerpts from his film, video and performances to create an emotionally-charged dialogue between life and work in the shadow of AIDS.

Plague Years is...a reminder of that wonderfully uncomplicated pleasure of remembering what it felt like to discover movies for the first time.-- Peter Goddard, The Toronto Star
Contents
Introduction
John Wayne
At the Movies
Taking Pictures
Beginnings
Baseball, Ma Brothers, and the Beginnings of Documentary
Jerry Lewis
Garbo
Big Show
White Museum
In the Cinema
Meeting Madonna
1988
Birth
Scaling
Bomen
Was
Eat
Boy Meets Girl
Modern Times
Mexico
Strangers
Frank's Cock
Sorrow
Letters From Home
Festival
Stormy Weather
Shooting Blanks
Kanada
House of Pain
Eight Thoughts on Short Films
Positive
Passing On
Philip Glass
Eternity
Filmography
ISBN: 0-920397-21-2 / 978-0-920397-21-3