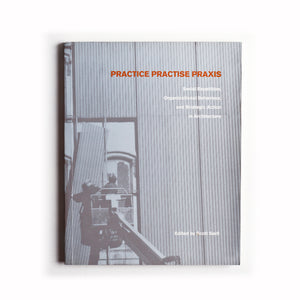 Softcover, 6.5 x 8.2 in.
160 pp.
Published by YYZBOOKS
Toronto, 2000.

Scott Srli teaches architecture, media, and communications in both the undergraduate and graduate programs at the University of Toronto, with an emphasis on time-based media. Srli is also an independent curator and co-founder of the street window gallery, convenience, which programs artists in an architectural, urban, and civic context.
This vibrant collection of essays, photo works, and drawing projects explores the physical problems of our built environment with a view to bridging the perceived divide between theory and practice in architectural discourse. The Canadian and international architects, photographers, and cultural commentators in this anthology address issues such as the relationship between professional practice and conventional architectural models, the political and sociological dimensions of various kinds of social and private spaces, and the effects of recent history upon architectural practice. From George Baird's overview of architectural praxis ensuing from the pivotal events of 1968, to Peter MacCallum's photo essay documenting the demolition of the Milnes Fuel Oil site, to Gordon Brent Ingram's consideration of the possibility of queerscape architecture at Wreck Beach in Vancouver, Practice Practise Praxis encourages a reconsideration of architectural thinking and practice across categories.
Srli has produced that rare thing of a volume of essays that cohere and leave the reader haunted by provocative questions and powerful images.... A must-read for anyone wishing to explore the reciprocal relationship between theory and practice. -- Alina Payne, Professor of the History of Art and Architecture, Harvard University
Contents
Introduction
Scott Srli
1968 and its Aftermath: The Loss of Moral Confidence in Architectural Practice and Education
George Baird
Mouldy Modernism
Scott Srli
Conditioning Infrastructure
Keller Easterling
Milnes Fuel Oil Demolition
Peter MacCallum
Cleaning House: Purity, Presence and the New Spirit in Le Corbusier
Melony Ward
The Occupation of the Surface: Time Sections
Judith Geher
(On the Beach): Practising Queerscape Architecture
Gordon Brent Ingram
A Public Square
Adrian Blackwell
Home Office: Contemporary Space of Practice
Brian Boigon
Target Practice: the Discourse of the Others
Notes on the Corporate Ethos and the Architectural Academy
Graham Owen
Photo credits
Contributor's Notes
Acknowledgements
ISBN: 0-920397-29-8 / 978-0-920397-29-9