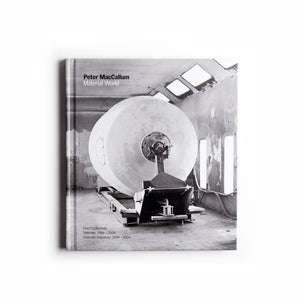 Hardcover, 8.5 x 9.5 in.
160 pp. / 117 pp bw.
Published by YYZBOOKS and Museum
London, 2004.

Rebecca Diederichs has been involved with Toronto's artist-run culture since the 1980s. She was a founding member of the artists' collective, Place & Show Artists' Projects and has been a board member at YYZ Artists' Outlet, CARO, and the The Red Head Gallery. Diederichs recently completed a Masters of Visual Studies at the University of Toronto in 2010.
Peter MacCallum was born in Toronto and is a self-taught documentary photographer. His earlier work focused on industrial environments and in particular the interiors of industrial buildings. Since 2004, his focus has been the architecture of commercial streets in Toronto and Paris, monumental architecture in Northern France and a famous concert hall in Toronto. MacCallum is represented by Diaz Contemporary in Toronto.
Material World is the first monograph by MacCallum, a celebrated photographer. MacCallum's objective documentary style avoids obvious commentary, allowing the material presence of the subject matter to emerge. The series of photographs represented here tell a story of commerce, labour and the economic relationship of cities to their industrial hinterlands.
Contents
Interiors 1986-2004
Concrete Industries 1998-2004
Foreword
Peter MacCallum
Introduction
Rebecca Diedrichs
'I Like His Modesty:' Peter MacCallum andEarly Toronto Documentary Photography
Russell Smith
Interview with Peter MacCallum
Blake Fitzpatrick
A Solid Foundation: Ontario's Early Concrete Industry
Michael Baker
Concrete Concretely
Terence Dick
Biography
Contributors' Bios
Acknowledgements
ISBN: 0-920397-82-4 / 978-0-920397-82-4