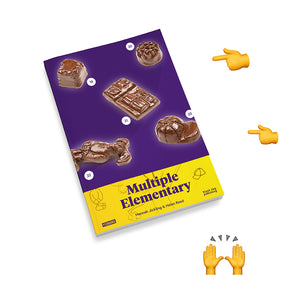 Part exhibition catalogue, part artists' book, and part candy store advertisement, Multiple Elementary explores the elementary school classroom as a site for the invention and reception of contemporary art practices. The book explores aesthetic and representative possibilities for process-based and publicly oriented artworks, especially amidst the complications and contradictions inherent to collaborations with children.
Contributors take-up adult-child relationships, the wildness of children and the contact-high they offer to artists attempting to recuperate wonder, failure, and queerness in their work. The commissioned texts also explore the reception of childrens' art outside of the classroom, the unruly behavior of artist multiples and taste-making in relationship to the 'Other.' Finally, a lexicon for curatorial, pedagogical and feminist-material-discursivity is offered to further locate Multiple Elementary amongst larger cultural questions.
Multiple Elementary
Edited by Helen Reed and Hannah Jickling
Published by YYZBOOKS
UK October 2017 — US/CAN November 2017
Designed by Chris Lee
Paperback — ISBN 978-1-910433-61-4
RRP £ 16.95 — $ 25.00 CAD
With contributions by:
Lorna Brown
Sita Kuratomi Bhaumik
Mark Clintberg
Jack Halberstam
Sydney Hermant
Vesna Krstich
Chris Lee
Stephanie Springgay
Maiko Tanaka
Artist/editors' bio:
Helen Reed and Hannah Jickling have been collaborating since 2007. They are currently based in Vancouver, Canada, on the unceded territories of the Musqueam, Squamish, and Tsleil-Waututh First Nations. Their projects take shape as public installations, social situations, and events that circulate as photographs, videos, printed matter, and artists' multiples. They are currently fascinated with the contact-high intrinsic to collaborative work, especially in their recent projects with children. They currently teach at the Emily Carr University of Art and Design where they received the 2016 Ian Wallace Award for Teaching Excellence. They are the 2017 recipients of the Mayor's Arts Award for public art in Vancouver.
Book Launch Events and Artists' talks:
Tuesday, October 31, 2017 @ 14:00 – 15:00
Tate Liverpool, Tate Exchange
(http://www.tate.org.uk/whats-on/tate-liverpool/talk/big-rock-candy-mountain)
Albert Dock
Liverpool Waterfront
Liverpool L3 4BB
Thursday, November 1. 2017 @ 16:30 – 18:00
Ruskin School of Art, Oxford University
(http://www.rsa.ox.ac.uk/)
Project Space, 128 Bullingdon Road
Oxford OX1 4BG
Monday, November 6, 2017 @ 10:00 – 11:30
Bastä Biennalen, Lunds konsthall
(http://bastabiennalen.se/konferenser/)
Mårtenstorget 3
223 51 Lund, Sweden
Wednesday, November 8, 2017 @ 19:00 – 21:00
Curatorial Studies, KASK School of Arts, Ghent
(https://tinyurl.com/ycjk926b) https://www.schoolofartsgent.be/
Cirque auditorium
KASK School of Arts
Louis Pasteurlaan 2
9000 Ghent, Belgium
Saturday, November 11, 2017 @ 14:00
Westfälischer Kunstverein
(www.westfaelischer-kunstverein.de)
Rothenburg 30
48143 Münster
Tuesday, November 21, 2017 @ 17:30 – 19:30
Read Books, Emily Carr University of Art and Design
(https://www.connect.ecuad.ca/resources/read)
520 East 1st Avenue
Vancouver, BC
V5T 0H2, Canada
The artists would like to acknowledge the support of the Canada Council for the Arts, the Ontario Arts Council, and the city of Toronto through the Toronto Arts Council.
For further information, please contact Ana Barajas at abarajas@yyzartistsout.org