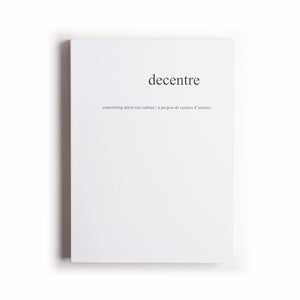 Softcover, 6 x 8.3 in.
272 pp. / 5 pp bw.
Published by YYZBOOKS
Toronto, 2008.
decentre is a book about artist-run culture; the effleurescence of projects, spaces, events spawned by artists at their own initiation. Artists and others working in artist-run spaces were asked to write short texts addressing the issues faced in this milieu, distilling down the essence of the concept "artist-run," and looking into the future.
Contents
With contributions by Hans Abbing, Danyele Alain, Heather Anderson, Sylvette Babin, Bruce Barber, Gerald Beaulieu, Natalie de Blois, Brett Bloom, AA Bronson, Michelle Bush, Paul Butler, Jean-Pierre Caissie, Candyland, Ian Carr-Harris, Elaine Chang, Hermenegilde Chiasson, Mark Clintberg, Timothy Comeau, Rebecca Conroy, Jo Cook, Sylvie Cotton, Nna Czegledy, Sigrid Dahle, John Everett Daquino, Ade Darmawan, Jennifer Delos Reyes, Joseph del Pesco, Shawna Dempsey and Lorri Millan, Carolyn Doucette, Martin Dufrasne, Peter Dykhuis, Michael Fernandes, Jocelyne Fortin, Vera Frenkel, Karen Gaskill, Annie Gautier, Andre Gilbert, Bastien Gilbert, Barr Gilmore, Marc Glassman, Chris 'Zeke' Hand, Jamelie Hassan, Janet Hawtin, Jens Hoffmann, Michelle Jacques, Marisa Jahn, Geoffrey James, Brett Jones, Michelle Kasprzak, Heather Keung, Eleanor King, Robert Labossiere, Francois Lachapelle, Tommy Lacroix, Guylaine Langlois, Marie-Helene Leblanc, Gordon Lebredt, Tom Leonardt, Chris Le Page, Chris Lloyd, Patrice Loubier, BrianLee MacNevin, Pamila Matharu, Cathy Mattes, Ingrid Mayrhofer, Jodi McLaughlin, Robin Metcalfe, Jonathan Middleton, Aleksandra Mir, Vicky Moufawad-Paul, John Murchie, National Bitter Melon Council, Marc Niessen, Anne-Marie Ninacs, Andrew James Paterson, Demian Petryshyn, Garrett Phelan, Katrina Lee Podesva, Craig Francis Power, Jeanne Randolph, Kathleen Ritter, Jocelyn Robert, Clive Robertson, Sadira Rodrigues, Daniel Roy, Gilles Senechal, Chandra Siddan, Haema Sivanesan, SKOL, Ho Tam, Jeff Thomas, Carl Trahan, Jon Tupper, Tobias C. van Veen, Juliana Varodi, Emily Vey Duke, Jean-Yves Vigneau, Kate Warren, Leung Chi Wo, Paul Wong, Jacob Wren, Yoke + Zoom, Wayne Yung,
ISBN: 0-920397-55-7 / 978-0-920397-55-8