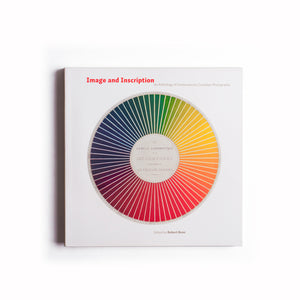 Softcover, 9 x 9 in.
232 pp. / 110 pp colour.
Published by YYZBOOKS and Gallery 44 Centre for Contemporary Photography
Toronto, 2005.

Robert Bean is an artist, writer, and teacher living in Halifax, Nova Scotia. He is currently a Professor at NSCAD University. Bean has exhibited his work in solo and group exhibitions in Canada, the United States, Europe, South America, and New Zealand. He has published articles on photography, art, and cultural history, has written catalogue essays, and completed numerous curatorial projects.
Image and Inscription presents the diversity and the changeable milieu of photographic practice and evokes an unanticipated moment in Canadian photography. It also represents an important step in expanding the contemporary authorship on photography in Canada. The practice of photography and photo-based art has established a unique presence in art since 1945. It has surpassed Walter Benjamin's predictions on image literacy and critical inscription. Explorations of temporality, history, narrative, memory and forgetting, situated identity, contemporary technology, and art are infused through the images and texts assembled in this volume. - from the Introduction by Robert Bean
The publication of Image and Inscription celebrates the twenty-fifth anniversary of Gallery 44 Centre for Contemporary Photography, an artist-run centre whose mandate is to promote photo-based art through exhibition and dissemination.
Contents
Acknowledgements
Foreword
List of Artist Pages
Cercles Chromatiques de M.E. Chevreul, 1861
Arnaud Maggs
Local Rock
Alain Paiement
Tales Without Grounds
Eve K. Tremblay
The System of Allusions
Marie-Josee Jean
Disaster Topographics
Blake Fitzpatrick
Light in the Loafers: The Gaynor Photographs of Gaetan Dugas and the Invention of Patient Zero
Robin Metcalfe
Nation, Identity, Periphery, and Modernity: Synthesizing Canada's Photographic History
Carol Williams
Objects of Desire: The Photo Art of William Eakin
Robert Enright
First Nation's BC
Arthur Renwick
Mabou/Caribo
Katherine Knight
Spiritual Suite
Rosalie Favell
Empire
Scott McFarland
The Metropolitan Museum of Edward Milla
Vid Ingelevics
The Post/Colonial Photographic Archive and the Work of Memory
Lynne Bell
Jayce Salloum: Archive of the Street
Jim Drobnick and Jennifer Fisher
Because of Burning and Ashes: A Few Works by Robert Frank and Lani Maestro
Stephen Horne
Questions of Obsolescence
Robert Bean
We Have a Situation: Sorry
Cathy Busby
Art Stars
Jeanne Ju
Archival Treatment
Michael Maranda
Contributor Biographies
ISBN: 0-920397-41-7 / 978-0-920397-41-1