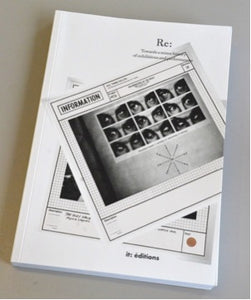 Published by:  It:editions
392 p, ills colour & bw, 17 x 24 cm, pb, English
$45.00- ISBN 9782917053324
Re: Towards a minor history of exhibitions and performances is a collection of textual and visual essays based on the exhibition 'Celebration of the Body', organized by Ingrid and Iain Baxter in 1976, and its reactivation in 2012 in three acts. The London part of this project consisted of a series of lecture-performances in which 21 artists and curators experimented with various strategies of reprise, including re-publication, re-animation, pirated catalogues, judicial enquiry, and memory assisted by video recording. This book marks the transition from performance to print. With contributions by Jean-Philippe Antoine, Kiff Bamford, Will Holder, Ju Hyun Lee and Ludovic Burel, Émilie Parendeau, Fabien Pinaroli, and many more.
Use coupon code PICKUP to save the shipping fees and pick up your items up in-store!

Curator, critic and educator, Fabien Pinaroli lives and works in Lyon. He writes regularly for monographic publications as well as magazines including Ciel Variable (Canada), L'art Même (Belgique) and Zéroquatre (France). In 2008, he was coeditor of the book Harald Szeemann: Individual Methodology (JRP|Ringier, 2008). and cocurated with IAC (Institut d'Art Contemporain de Villeurbanne) the exhibition Dan Graham, Jef Wall : The Children's Pavilion. In 2012, he curated the project CoB#2, which resulted from a study based on the archives of the N.E. Thing Co. Ltd at the AGO, Toronto and in the IainBaxter&RaisonnE (Ed. Adam Lauder). He conceived and organized the reworking of an exhibition, Celebration of the Body, produced in 1976 in Kingston, Canada. He reworked the exhibition in different phases and various propositions, including two exhibitions History of Art in the Age of…, Reworking of an Exhibition, Lyon, France, two study days in London, and a publication. The latter, Re: vers une histoire mineure des performances et des expositions(it:éditions, 2014) is published today in English. He also was in 2013 the curator of the monographic exhibition Iain Baxter& at Raven Row, London. In 2015, he organized at Nivola Museo, Sardinia, Italy Castelli di sabbia & IL TOPO with David and Frederic Liver, a retrospective of IL TOPO, the Italian artist-run magazine. During the last years, he gave numerous lecture performances: Some useful notes for In General People… and Re: (IAC LyonVilleurbanne, 2014), CoB#2 / RE: Lorraine's bread with cereals (Akademie Schloss Solitude, Stuttgart, 2014), Give Me Honey, Tactile Slideshow (Mamco, Genève, 2015), Livre & Live : Re: & To Sing Foucault (Kunstverein Stuttgart, 2015). In 2016, he worked on Radio-Lumières, a collaborative project revisiting the work of Yoko Ono invited by the Museum of Contemporary Art of Lyon in the context of Lumière de l'Aube, the first retrospective of the artist  in France. In 2018, he cocurate Re: Celebrating the Body at the MacKenzie Art Gallery (Regina, SK, Canada), a multidisciplinary platform revisiting Celebration of the Body featuring contributions by NETCO co-presidents Iain Baxter& and Ingrid Baxter, as well as an international contingent of invited artists. A reactivation rather than a historical reconstruction, the project probes the current relevance of NETCO's deconstruction of cultural stereotypes of the body with a special focus on questions of ability and the development of a "soma-esthetic."