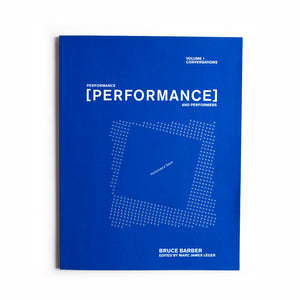 Softcover, 8.5 x 11 in.
141 pp. / 36 pp bw.
Published by YYZBOOKS
Toronto, 2007.
Both volumes ofPerformance, [Performance] and Performersare available at a discounted price of $50.

Bruce Barber is an internationally recognized artists, writer, curator, and educator. Barber's work is included in various private and public collections. He is a Professor of Media Arts; Historical and Critical Studies, and Director of the MFA program at NSCAD University.
Marc James Leger is an artist, writer, and educator living in Montreal. Leger has published essays on critical public art in a number of journals, including Fuse, Parachute, Art Journal, and the Canadian Journal of Film Studies. He has exhibited in Canada, the U.S., and the U.K.
Contents
Author's Preface
Acknowledgements
Performance [performance]: Keyword
Conversations with Performers
Interview with Jacki Apple
Conversation with Martha Wilson and Michael Smith
Conversation with Larry Miller
Interview with Vito Acconci
Interview with Rita Myers
Bruce Barber, Kate Craig and Serge Guilbaut in conversation with Laurie Anderson
Interview with Adrian Piper
Bruce Barber and Serge Guilbaut in conversation with Martha Rosler
Interview with Michael Smith
Interview with Richard Layzell
Interview with Richard Martel
Ten questions to begin our conversation: An interview with Margaret Dragu
Questions for Rita McKeough
Interviews with Bruce Barber on [Performance]
Clive Robertson in conversation with Bruce Barber
From performance to [performance]
Illustration Credits
ISBN 0-920397-45-X / 978-0-920397-45-9