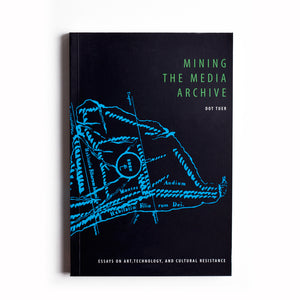 Softcover, 6 x 9 in.
212 pp. / 22 pp bw.
Published by YYZBOOKS
Toronto, 2005.

Dot Tuer is a cultural theorist and historian whose writings focus on issues of political agency, memory, the body, and transculturation in contemporary new media art, performance, and photography in Canada and Latin America. She publishes widely in contemporary art magazines, journals, and anthologies and has received numerous awards for her writing on art. Tuer holds a Ph.D. in history from the University of Toronto and is a Professor of Art History and Humanities at OCAD University, where she has served as the Director of the MFA program and Chair of the undergraduate program in Criticism and Curatorial Practice.
Mining the Media Archive gathers together an exciting collection of essays by Dot Tuer. Ranging from monographs on new media artists, to testimonial writing on cultural politics and post-colonialism in Canada and Argentina, Tuer's writings address issues of global media and local remembrance through a unique blend of storytelling, archival research and cultural analysis.
The archive becomes a dynamic montage of the past and present: a repository for the steady trickle of utopian interchanges between life and art that lies beneath the surface of the simulacrum, and a talisman against the historical amnesia of global corporate culture.-- from the Preface by Dot Tuer
Contents
Acknowledgements
Preface
1. NEW MEDIA
Embodying the Virtual: Hybrid Subjectivity and New Technologies
The Second Nature of Simulation: Mirroring the Organic in the Virtual World of Char Davies' Ephemere
The Heart of Matter: The Mediation of Science in the Art of Catherine Richards
Threads of Memory and Exile: Vera Frenkel's Art of Artifice
Mining the Media Archive: When History Meets Simulation in the Work of Dana Birnbaum and Stan Douglas
2. HISTORY
"The CEAC was banned in Canada": Program Notes for a Tragicomic Opera in Three Acts
The Art of Nation-Building: Constructing a Cultural Identity for Post-War Canada
Is It Still Privileged Art? The Politics of Class and Collaboration in the Art Practice of Carole Conde and Karl Beveridge
3. TESTIMONY
Cultures of Conquest / Culture in Context
Parables of Community and Culture for a New World (Order)
Imaging the Borderlands
Performing Memory: The Art of Storytelling in the Work of Rebecca Belmore
Cartographies of Memory: Tracing the Representational Legacy of Argentina's Dirty War in the Work of Guillermo Kuitca
Anatomy of an Insurrection
From the Conceptual to the Political: The Art of Political Protest in Argentina
Gateways to the Earth and Sky
Select Bibliography
Image Credits
ISBN: 0-920397-35-2 / 978-0-920397-35-0