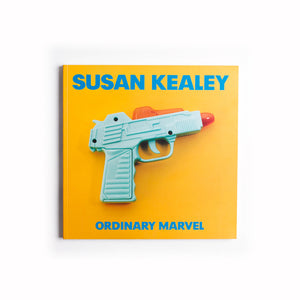 Softcover, 9 x 9 in.
180 pp. / 31 pp bw. / 59 pp colour.
Published by YYZBOOKS
Toronto, 2003.

Jennifer Rudder received her Master of Visual Studies, Curatorial at the University of Toronto. She was Director/ Curator of Gallery Stratford, Executive Director of the Toronto Outdoor Art Exhibition, Editor of MIX magazine and Director of YYZ Artists' Outlet. Rudder is currently an independent curator and a lecturer at the OCAD University.
Susan Kealey was an artist, writer, and editor. She studied at the University of Ottawa and McGill University, receiving two Bachelor of Arts, and then went on to study at the Ontario College of Art. Kealey lived and worked in Toronto where she became an integral part of the Toronto arts scene in the 1990s. Kealey died on May 30, 2000.
Following the premature death by cancer of artist Susan Kealey at age forty, twelve of her colleagues, all prominent artists and writers, have come together to create this monograph as a tribute to her enormous energy and creativity. These engaging and thoughtful essays document Kealey's prolific output as a visual artist and mark her contribution to the Toronto art community and to Canadian art.
Ordinary Marvel includes lush, full-colour reprints of Kealey's major photographic series ThePhenomenology of Licorice, Synopses and Epilogue. In these works Kealey critically examined the techniques of documentary and commercial photography through the creation of photographic studies of everyday objects, photographed on a brightly-lit table in a spare clinical manner.
Contents
Foreword
Joan Stebbins
Mysteriously Familiar Ordinary Marvel
Jennifer Rudder
ARC Angel
Michelle Jacques
Missing Persons: People Who Need People
Scott McLeod
Does Duchamp Make You Sad? (An Investigation, With Feeling)
John Marriott
Necessary Polarities
Steve Reinke
The Phenomenology of Licorice and other Dutch Myths
Renee Turner
The Donut
Sally McKay
BANDWIDTH
Robert Lee
Illness as Critique
Tom Folland
Teeth Like Baseballs, Eyes Like Jellied Fire
John Massier
Agencies and Inventories: An Artist and her Microscope
Andrew James Paterson
Deux ou trois choses que je sais d'elle
FASTWURMS
Acknowledgements
Jennifer Rudder
Susan Kealey Biography
List of Works
Contributors' Biographies
ISBN: 0-920397-83-2 / 978-0-920397-83-1